Brief Overview of a 360-in-525 Minutes Course Set
For more details see Overview of a 360-in-525 Minutes Course Set in Data Sciences, Spring 2018
This is a two-full-days workshop (2 hp) on April 26-27 2018. Prerequisites: 360-in-525-1 or Introduction to data Science (the Fall 2017 UU inter-faculty course). The first day will be an introduction to the domain by Professor Simon Lindgren, a digital sociologist from Umea and the second day will build towards making one's own twitter experimental designs in real-time. This module will introduce you to topic modeling and other simple pipelines in natural language processing.
The course will give you the basic skills needed to go further and investigate the influence, if any, of micro propaganda machines (as shown below) or other similar opinion engineering operations, for instance.
We will ingest global news streams from the gdelt project with embeddings and models to gain insights into current affairs (see below).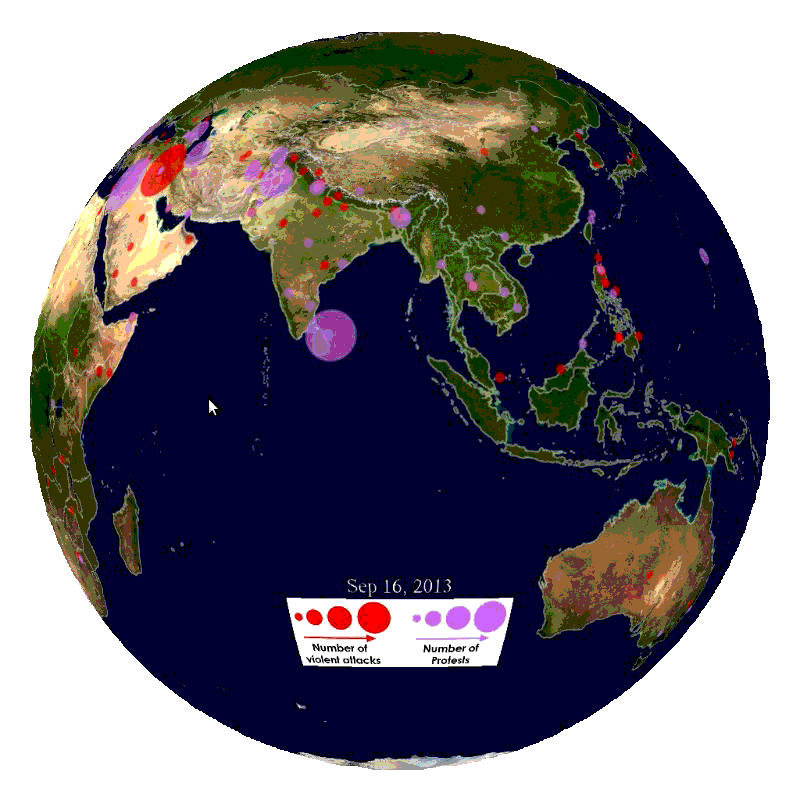 Course Content
Preparation for Thursday: Please spend about an hour to mindfully watch the assigned viewing below.
Preparation for Friday Readings on the following from Twitter Developer Terms:
LOCATIONS:
Thursday April 26th 2018 0815 hours : 2001, Ångström mazemap
Thursday April 26th 2018 1330 hours : 6K1113, Ångström mazemap
I am aware that the Meetup site was busted (temporarily, and hopefully not recurrently!).
YouTube Archive of all lab-lectures:
Realized SCHEDULE for April 26th 2018
0830-1000 hours; (000-090 of 360 Minutes): Introduction to Digital Sociology by Simon Lindgren

0830-0915 What is digital sociology? PDF slides
0915-1000 MeToo Case Study in Action (via Jupyter notebooks)

Fika break 30 minutes - sponsored by Combient AB

1030-1200 hours; (91-180 of 360 Minutes): A look into EU laws of relevance, mathematical biases, big data ethics, privacy, security plus questions and discussions.

1030-1040 hours by David Sumpter about the culminating Mathematics for Social Activism Workshop at Uppsala June 4-5
1040-1130 hours by Amelia Andersdotter on (General) Data Protection (Regulations), PDF slides, and pointers:

Hongkong Privacy Commissioner introduction to Data Protection Law as YouTube video
Chapter 2 in Seda Gürses doctoral thesis on Privacy-Enhancing Technologies or PETs. It covers the setting and background of privacy paradigms well.
Swedish survey of subjects' attitudes to healthcare data research:
Some examples of breach notification reports in English, Swedish (and Romanian):
Ethics compliance form:
Generally about using special research registries in Sweden (focused on health care and social services):

1130-1200 hours by Raazesh Sainudiin on mathematical bias in models, applied operations research and information engineering, and applicability of law via privacy-preserving decision theory for mathematical statistical researchers

Towards Participatory Democracy in the Big Data Age, PDF slides
Information as a commodity in free market: Security, Privacy, Profit…
Lunch

you can buy sandwiches or have a full meal in cafes nearby.

1330-1500 hours; (181-270 of 360 Minutes): Analyzing 2017 UK and 2016 US Elections on Twitter

1330-1415, Simon Lingren, UK General Election Case Study: Social Network Analysis, PDF slides
1415-1500, Raazesh Sainudiin, Characterizing the Twitter network of prominent politicians and hate groups in the 2016 US Election, PDF slides

Fika break 30 minutes - sponsored by Combient AB

1530-1700 hours; (271-360 of 360 Minutes): Face-to-face-ONLY Tutorials and Assignment Marking
360-in-525-2: Social Media and Big Data on April 27 2018
LOCATIONS:
Friday April 27th 2018 0815 hours : 6K1113, Ångström mazemap

Friday April 27th 2018 1330 hours : 4003, Ångström mazemap

000-090 of 360 Minutes:
Fika break 30 minutes - sponsored by Combient AB
091-180 of 360 Minutes:
Lunch
181-270 of 360 Minutes:
Fika break 30 minutes - sponsored by Combient AB
271-360 of 360 Minutes:
Additional Links for Lab-Lectures
The English Civilizing Process: London's Old Bailey and the evolution of English law
On inferential thinking for digital sociology and humanities
What is the Data? Why did people support the printing and archiving of court proceedings in London's Old Bailey Court? etc.
Illustrating inferential thinking on the ``English Civilizing Process'' from Old Bailey Online dataset as XML files:

for example, did capital punishment for offence types really change between 1673 and 1911 in London?

Fusing inferential thinking with computational thinking in one place using Apache Spark (same code can scale to petabytes, if needed!)

Recommend reading for mathematical statistical researcher:
All databricks notebooks
Import all databricks notebooks for this module as a .dbc file from:
All Jupyter notebooks by Simon Lindgren